Various information about special show activities, model kit and statue exclusives/debuts, exhibits, parties, etc.
---
---
Saturday Night "Show & Tell" Model Parties at JerseyFest !
The partying continues on Saturday night (Aug. 27th) at Jerseyfest with the "Figure Models Show & Tell Party", "Sci-Fi Vehicles & Mechs Show & Tell Party" (includes East Coast Ma.K Modelers Meetup and Hardware Kitbasher's Swap Meet).  Both will be held in separate conference rooms at the Marriott Hanover Hotel.  Hobbyists will bring in and talk about pieces they worked on in a laid back, informal setting with snacks and drinks.  Then we all work our way over to the awesome "Auld Shebeen" Irish Pub on hotel property.  We don't have "cliques" at these parties – all show attendees are invited.  And you just might be hanging out with movie FX legends…don't miss it !
A "show and tell presentation" means showing one of your models to the group while generally explaining the process and experiences you had creating, building or painting it.  Anyone attending a party with a model in hand may do a presentation if they choose to.  There is no set schedule or "fixed" list of participants and advanced notice is not required.  The presentations will be brief, informal and laid back to go along with the casual mood of the party.  Note that participants will be able to temporarily retrieve their models for the party from the secured contest/exhibit room.
---
More show specials to be announced.
---
Jerseyfest Night Time Partying !
The "Auld Shebeen" Irish Pub & Restaurant right in the Marriott Hanover hotel is flat out awesome! It's filled with wood and stone imported from Ireland for a rustic atmosphere that's perfect for our post show festivities.  They serve lots of great beer and mixed drinks up until 1:30 am, plus GREAT food until 12:00pm.  So, Auld Shebeen will be the hub for night time Jerseyfest partying all weekend long.  On Saturday, the meet up at the bar will happen at around 11:00pm right after the Jerseyfesst "Show & Tell Parties".  Remember that one of the greatest aspects of the Jerseyfest show experience is the socializing and partying that happens after the show all throughout the hotel!
Over 90 percent of the material used to create the Auld Shebeen pub is authentic Irish salvage that was imported from Ireland. The Auld Shebeen was actually constructed in Belfast, Ireland, and then taken apart and shipped to the United States to be re-constructed at the Hanover Marriott. The Auld Shebeen is divided into four general areas, with a piece of Irish History in every corner.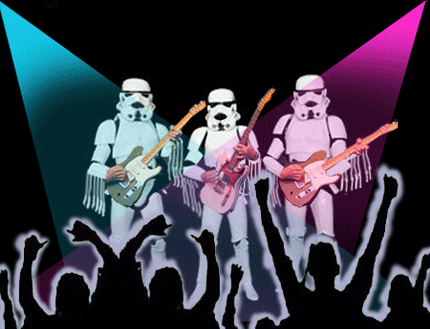 ---
Sideshow Collectibles Specials
To be announced.
---
Sold Out "Hot Toys" Figures can be Purchased at the Show!
"The Hand of Doom Collectibles" vendor will have numerous, rare "Hot Toys" figures released by Sideshow Collectibles for sale at the vendor show at good prices.  They also will have many other rare and sold out statues and high-end figures.