Various information about special show activities, model kit and statue exclusives/debuts, exhibits, parties, etc.
---
New TenaControls "Touch Technology System" and "Mega Board" for Sale and On Display at the JerseyFest Vendor Show
The Touch Technology system will allow you to activate functions with the touch of your finger. The special switches can be placed anywhere behind a panel where the model builder thinks is best. The wires are then channeled back to the TenaControls Touch Technology System board, ready to sense when a finger is in close proximity, activating that specific switch function.  No more electromechanical switch buttons sticking out of bases.   They will also have "The Mega Board", which will come in at a whopping size of 2.6″ x 2.1″ and yet have five control inputs, thirty one outputs, two sound boards and two Speaker outputs. The board will operate from a DC power supply of 5 to 12 volts, although most led strip require 12 VDC to light up correctly so we suggest using a 12 VDC power supply.  If this wasn't enough, TenaControls will allow you to adjust the on/off  time functions.  Like for example,  the Navigation and Strobe lights with a simple and intuitive way.  There will be even more goodies that this tiny giant will be able to perform, though those are being kept secret for now.
---
New Zombie Kit from Alternative Images and Brian McGuire at JerseyFest Vendor Show
---
Round 2 Models New Space 1999 Eagle Kit – JerseyFest Contest Prize
Click here for contest prizes and awards details.
---
Mike Rotella Monster Kits & Art at JerseyFest
Mike Rotella will have resin monster kits for sale at his vendor table including "The Komoda Creature" bust that he sculpted for Artist Proof Studio based on a drawing by Paul Komoda.  The kit was sold out, but a few castings are being made available for JerseyFest.  Mikey worked on "The Thing" prequel and many other crazy horror flicks, and is also on the "Making Monsters" TV show with Jordu Schell.
---
New Game of Thrones Kit for Sale at JerseyFest at the "Dead End Resin" Table
---
New Ray Santoleri Kits for Sale at JerseyFest
---
JPG Productions Model Kits at JerseyFest 2015
Here are some of the kits that JPG Productions will have for sale at the show:
1:144 scale Star Wars Outrider: 40 parts, clear cockpit and engines, decals included. Measures 8W x 6L x 3″ H. Perfect companion to the Finemolds and Anigrand Falcons!
1:72 Red Dwarf Starbug : ~60 parts, decals included. 14″L x 8″W x 8″ H.
1:350 Star Wars Rebel Blockade Runner, 120 parts, 18″ long. Comes with cockpit decal, laser-etched plaque, and CD with over 300+ reference pictures. Show only special discount, only 5 are going to be available!
---
Kits that will be Available at the Garage Kits.US tables
Here are pictures of just a few of the kits what they will be offering for sale at the vendor show:
---
Re-release of  Filmy's Girls Charge! Model Kit at JerseyFest 2015
By popular demand – and just in time for Halloween – Filmy's Girls Charge! will make its long-awaited return on Saturday, August 29th at Jerseyfest 2015. This will be our first vendor appearance on the east coast, and we are looking forward to catching up with our friends and loyal customers AND meeting new ones. Fully licensed from uber-talented UK artist Aly Fell, Charge! is the first female kit sculpted by long-time Filmy's Girls co-conspirator Troy McDevitt. This re-engineered version of our rarest and most difficult-to-find kit will include a new dressing tabletop, real glass and clear bulbs for the dressing mirror, a small section of wall on which to mount the mirror and plug, wire for her electrodes, a guide and links to specific accessories and lighting kits (should you choose to go all out with your diorama), and more! We are also shooting a "how-to" video in Filmy's workshop that shows how we scratchbuilt the walls, floors, shelves, and electrical panel shown the photos below. Fewer than twenty-five copies of Charge! were ever made available to the public, and the pent-up demand is tremendous, so if you missed this iconic Filmy's Girls kit the first time around, here's your second chance! Remember, Pearl sold out in 17 minutes at Wonderfest, so if you've always wanted a copy of Charge! you do NOT want to miss this! Come see us at 10:00 am sharp on Saturday, August 29 at Jerseyfest 2015
---
New Dinosaur Kit by Cretaceous Creations Debuts at JerseyFest 2015
Shane Foulkes of Cretaceous Creations will be selling various superb, resin dinosaur model kits at the JerseyFest vendor show in August.  A brand new kit of an Ambulocetus will make its debut at the show.  It's a 10 ft long aquatic Chimera of sorts, looking like a mammalian Croc/Otter? It lived 50 mil years ago in the Eocene Period in what is now Pakistan. It was a early relative of the Whale and shared many future features with whales. It was able to swallow under water, had no external ear, sensed vibrations through sensors in its lower jaw, and a chemical testing of its teeth showed it was able to adapt to both fresh and salt water. It lived an aquatic life style similar to Crocs, ambushing its prey and it had some nasty teeth similar to early whales. This model kit is 1/8th scale and is 14.5″ long and comes with all you see here.
---
Saturday Night "Kaiju Modelers & Collectors Party" at JerseyFest 2015 !
This party will have informal presentations on Godzilla and Kaiju model buildups, and painting demos.  It will also have monster movies and super passionate Kaiju modelers and collectors attending.  Who could ask for more?  Bring a few models or X-Plus pre-painted figures to show off and talk about (optional) and have fun all night with a group of like-minded hobby enthusiasts.  See you there !
---
Friday Night "Sculpting Show & Tell" Party at JerseyFest 2015 !
One of the various night time parties on JerseyFest weekend include the "Sculpting Show & Tell" party on Friday night, August 28th at the Marriott Hanover Hotel in Whippany, NJ.   Sculptors of all experience levels will bring in and talk about sculpts they have completed or are working on in a laid back, informal setting with snacks and drinks.  Or, if you are just interested in the subject, please feel free to join.  We don't have "cliques" at these parties – all show attendees are invited.  Plus you'll get to hang with movie FX artists.  Then we work our way over to the incredible "Auld Shebeen" Irish Pub on hotel property.
June 13th Update: Attendees will also be able to sculpt while hanging out at this party, which will be optional.  Jordu Schell felt that this approach would be the most fun and we agree.  He will be one of the artists sculpting along with Mike Rotella.  Great opportunity to have fun and learn from each other – again it's for all experience levels.   So, we will still do "show and tells" (so bring sculpts/kits to talk about), but the party will also be a casual sculpting session.  Anyone who wants to sculpt during the party needs to bring their own stand, clay and tools.  The flyer indicates that the party will end at 12:00am, but it will go as late as you vampires like.


---
New "Frankenstein Chained" Kit Debuts at JerseyFest 2015 
This new model kit sculpted by Jeff Yagher, called "Frankenstein Chained", will be debuting at the JerseyFest 2015 vendor show on Sat. Aug. 29th and Sun the 30th where it will be for sale at a significantly discounted "show only" price.  It will be made available by "Classic Creature Kits".
An absolute "no compromise" approach was taken to produce this resin kit, which recreates one of the most memorable images and scenes in monster movie history.  The kit includes the deluxe base and everything shown.  The figure is 1/6th scale and the base spans about 20 inches high and 17 inches wide.
---
Meet R2-D2 From Star Wars  
Appearing during the JerseyFest vendor show on Saturday and Sunday (Aug. 29th & 30th).
Everyone's favorite droid will pose for pictures & chat with fans of Star Wars.
@R2D2CNY is a life-sized replica by NY R2 builder Jon Stokes.  Jon will be discussing how he created the droid and other fun R2-D2 facts.
---
We encourage everyone with Kaiju kits and dioramas  to bring and display them in the exhibit – the more the better and there is no entry fee.  So, dust off your old models or start working on some new ones!  One of the main themes for this year's show is "Kaiju", so stay tuned for more announcements of show specials that appeal to Kaiju fans, including hobbyists and collectors.
---
New "Planet of the Apes" Model Kit Debuts at JerseyFest 2015
A brand new, 1/4 scale (9 1/2 inches tall), solid resin "Planet of the Apes" bust with base sculpted by Saul Alvarez will be debuting at the Jerseyfest vendor show this year at the "Silver Screen Icons" vendor table.
---
New Jeff Yagher Sculpted "Wolfman" Model Kit Debuts at JerseyFest 2015
A brand new, 1/4 scale, solid resin "Wolfman" bust sculpted by Jeff Yagher will be debuting at the Jerseyfest vendor show this year at the "Hand of Doom" vendor table.
---
New Jeff Yagher Sculpted "London After Midnight" Model Kit Debuts at JerseyFest 2015
A brand new, 1/4 scale (10 1/2 inches tall), solid resin "London After Midnight" bust with base sculpted by Jeff Yagher will be debuting at the Jerseyfest vendor show this year at the "Silver Screen Icons" vendor table.  This bust will also be provided to students who take the monster painting class – click here for more information and more pictures of this sculpt.
---
Saturday Night "Show & Tell" Model Parties at JerseyFest !
The partying continues on Saturday night (Aug. 29th) at Jerseyfest with the "Figure Models Show & Tell Party", "Sci-Fi Vehicles & Mechs Show & Tell Party" (includes East Coast Ma.K Modelers Meetup and Hardware Kitbasher's Swap Meet) and "Kaiju Modeler and Collector Party".  All 3 will will be held in separate conference rooms at the Marriott Hanover Hotel.  Hobbyists will bring in and talk about pieces they worked on in a laid back, informal setting with snacks and drinks.  Then we all work our way over to the incredible "Auld Shebeen" Irish Pub on hotel property.  We don't have "cliques" at these parties – all show attendees are invited.  And you just might be hanging out with movie FX legends…don't miss it !
A "show and tell presentation" means showing one of your models to the group while generally explaining the process and experiences you had creating, building or painting it.  Anyone attending a party with a model in hand may do a presentation if they choose to.  There is no set schedule or "fixed" list of participants and advanced notice is not required.  The presentations will be brief, informal and laid back to go along with the casual mood of the party.  Note that participants will be able to temporarily retrieve their models for the party from the secured contest/exhibit room.  Some of the attendees doing presentations include:
Figures Party: Angelo Valletta, Jason Jaconetti, Jim Capone, John Ficchi, Mike Swisstack, Scott Rizzo, Steve Parke, etc.
Kaiju Party: Ed Angilleti, Jon LeGrand, Matt Evangelista(Kaiju Modeler), Robert Troch, etc.
Sci-Fi Vehicles & Mechs/Ma.K Party: Charles Villacara, Eric Longstreet, George Takacs (our party MC from Timeslip Creations), Kevin Derken, Mike Salzo, Paul Bodensiek on Photoetching, Steve Neisen, etc.
---
More show specials to be announced.
---
Jerseyfest Night Time Partying !
The "Auld Shebeen" Irish Pub & Restaurant right in the Marriott Hanover hotel is flat out awesome! It's filled with wood and stone imported from Ireland for a rustic atmosphere that's perfect for our post show festivities.  They serve lots of great beer and mixed drinks up until 1:30 am, plus GREAT food until 12:00pm.  So, Auld Shebeen will be the hub for night time Jerseyfest partying all weekend long.  On Saturday, the meet up at the bar will happen at around 11:00pm right after the Jerseyfesst "Show & Tell Parties".  Remember that one of the greatest aspects of the Jerseyfest show experience is the socializing and partying that happens after the show all throughout the hotel!
Over 90 percent of the material used to create the Auld Shebeen pub is authentic Irish salvage that was imported from Ireland. The Auld Shebeen was actually constructed in Belfast, Ireland, and then taken apart and shipped to the United States to be re-constructed at the Hanover Marriott. The Auld Shebeen is divided into four general areas, with a piece of Irish History in every corner.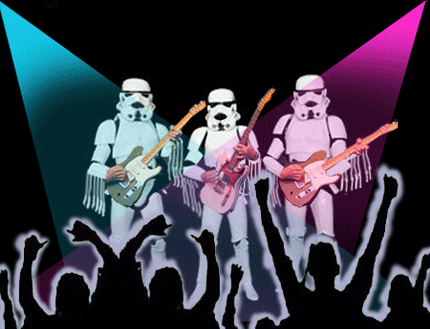 ---
Sideshow Collectibles Specials
To be announced.
---
Sold Out "Hot Toys" Figures can be Purchased at the Show!
"The Hand of Doom Collectibles" vendor will have numerous, rare "Hot Toys" figures released by Sideshow Collectibles for sale at the vendor show at good prices.  They also will have many other rare and sold out statues and high-end figures.